The ever popular Right Brain Education Workshop from Owlissimo is back with a new chapter… the Intermediate Workshops! We also have one free ticket to give away – scroll down for details!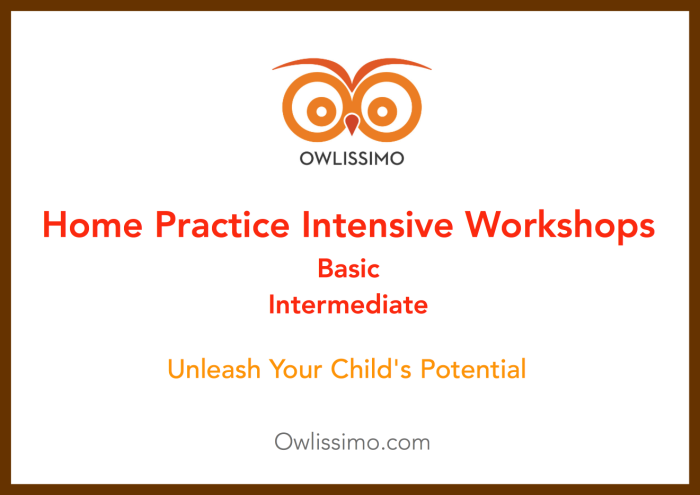 About Owlissimo's Home Practice Intensive Workshops
Owlissimo's workshops are designed for parents who:
Have heard all the benefits of early right brain education and want to know how to practise it at home
Want to know how to flash cards, how to play memory games
Want to extend the learning activities beyond 4-6 years old
Want to know how to help their child learn with superb attention
Wish to meet a group of parents enthusiastic about home practice
Owlissimo offers two categories of workshops:
Basic – for parents that:

are new to early right brain education
have never attended Owlissimo's home practice workshops
have children aged 0-6 years old

Intermediate – for parents that:

have some experience in early right brain education
have a basic knowledge of building parent-child relationship, flashcards and memory games
have attended Owlissimo's basic workshop
have children aged 3-6 years old
are looking for extension activities to prepare their child for primary school
About the Speaker
MieVee is a mother of 3 right brain education and Montessori Method practitioner. She used imaging method to achieve outstanding academic performance during University and beyond. She has over 5 years experience working with parents and educators on accelerated learning, right brain and Montessori methods; and has logged thousands of hours on classes, books, articles, and consultations with other parents and educators.
What you will learn
Basic Workshop:

practical tips and live demonstrations on how to carry out fun home practice that your children will love
how to flash cards quickly and effectively
how to make flash cards and get ideas for flashcards
how to play ESP / HSP,  photographic memory, linking memory games and more
how to blend right brain education with the Montessori Method so that your child can do home practice independently

Intermediate Workshop:

how to bridge accelerated learning, right brain & Montessori methods to prepare your child for primary school
How to be your child's favourite teacher: Learn how to follow his pace, observe if your lesson is effective, create engaging content, grab his attention
How to unleash your child's super-learning skills: further stretch his memory capacity, attention span, develop grit to practice when the going gets tough, and learn independently
Tips on teaching reading, writing and math: Learn how to whip up learning materials(sometimes on-the-spot!) to demonstrate concepts effectively to your child.
What you will get
Q&A session to get your most burning questions answered.
full workshop notes — with activities categorised into age groups, and lots of FAQs answered
a set of MieVee's most valuable home practice templates. A sure-fire way to boost effectiveness.
access to workshop videos for revising how to conduct the home practice activities.
make friends with like-minded parents to exchange tips and homemade materials. This is a priceless time saver and helps motivate you to continue with home practice over the next few years.
When is it?
Where is it?
Singapore
Seminar Room LLP
Heritage Place, 21 Tan Quee Lan Street, #02-08
Singapore 188108
(Located opposite Bugis Junction, just across the road)
Malaysia
Life Changing Xperiential Center
B-06-1, Lobby 4, Ativo Plaza @ Damansara Avenue,
Jalan PJU 9/1, Bandar Sri Damansara,
52200 Kuala Lumpur
Registration
Fees: 
Main attendee – S$200
Spouse or alternate primary caregiver – S$50 (valid only for the second ticket from the same nuclear family)
Special early owl discount
From now until 30 August 2015, get a whooping 65% discount! Pay only S$70 and get a savings of S$130 for the same intensive workshop sharing session!
Giveaway!

Yes we have a free ticket to Owlissimo's workshop (Basic or Intermediate) to give away to one lucky person – Kuala Lumpur Workshop only (sorry!)

Click here to register for the giveaway.

Good luck!
Please follow and like us: